Consistency– Consistency is the most vital attribute you should think and possess when you are designing and planning your house. Although it doesn't necessarily mean that all your things should be identical, it is very important to observe cohesion in your decision-making. 
For this reason, it is very significant to choose and purchase furniture and upholstery that match your entire house. Everything should complement each other so that your home will be presentable and be decorative as well. 
Having an accent chair adds spice to your entire place especially when your living room or bedroom looks dull and boring. Similarly, having cushions for your accent chair creates a focal point to make it more interesting to look at. Uniformity is challenged when deciding to have cushions. So today, I am going to give you tips of knowledge on what handmade cushions are perfect for your accent chair.
The charm of the opposite cushion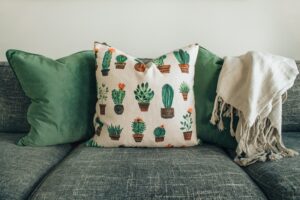 Before comparing fabrics and considering what pompoms and accessories are needed, we first determine the color. Your handmade cushion does not have to necessarily match your entire accent chair. If you really want to increase your influence and spices, then it's best to choose contrasting colors and patterns.
If you want a great effect on how your accent chair looks, try decorating contrasting handmade cushions for your accent chair. It can be as follows:
Blue and white

Black and white

Brown and orange

Plain and patterns
The color matching option is suitable for a patterned accent chair or an ordinary one. Meanwhile, printed decorative handmade cushions can easily add interest to your simple accent chair.
Cushion Toning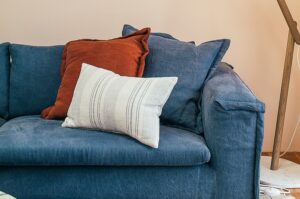 In addition to introducing eye-catching contrasts, you can also introduce subtle tones or colors that are not delicate. Include a variety of shades from light to dark to match your handmade cushions with the color of your accent chair. Examples of subtle colors are peach, purple, and some pastel colors.
 Do not also forget to connect color combinations of your handmade cushions from the things that can be seen and observed inside your houses such as ornaments and wall arts. These colors can be so "you" because they are already characterized and recognized in your home.
Complement your handmade cushions
Do you need to introduce multiple styles in the room? Well, it all depends on the drama of the cushion you want to create. There are many experiments you can do to complement your handmade cushion to your accent chair. Sometimes, you need to immerse yourself in a soft, calm, soft-toned design. Oftentimes, you can choose a printed or embroidered handmade cushions.
Combining size, color and pattern can make your handmade cushion perfectly pretty. Make sure you mix and match them in uniform. It is alright to have a variety of patterns and colors when combining them as long as you are abiding by the color scheme combination rule. And also, your pattern should not look messy and can still match your accent chair.
Remember to choose the color you want to pay attention to so that it will match to your accent chair. 
 Choose the right Fabric
To increase the depth of the interior decoration, look for unique and high-quality fabrics for your handmade cushion. Consider the choice of fur, suede, and velvet to create a truly gorgeous look. Choose fabric from reputable fabric shops to ensure quality. I recommend Yorkshire Fabric Shop. They are my go-to shops when looking for perfect fabrics for my upholstery. Beads, embroidery, or fabric cushions also provide some differences and add a lot of texture. The time and effort required for this design is the value of a gorgeous title that will soon emerge.
Other home decorators wouldn't want neutral decoration. Instead, they season it with unique fabrics. When playing with textures, the first thing to consider is the ambiance of the room. Linen handmade cushions provide a simple and comfortable living space. On the contrary, silk and velvet are the epitomai of charm and elegance; making the living room more sophisticated.
Whether you are choosing the layout of your handmade cushion or deciding what handmade cushion to purchase that would match your accent chair, you should remember to always observe uniformity, cohesion, and consistency so that it will not be out of place.
If you feel you want to find more inspiration and pieces of advice, feel free to visit Yorkshire Fabric Shop for your perfect handmade cushions.