When it's about experimenting with looks, girls leave no corner untouched. They like to explore anything and everything that makes them look beautiful. Whether it's a wedding season or any other festive occasion, you need to look your best. What could be more apt than a Punjabi sharara dress? Yes, you heard that correct! Millennial girls are shunning the idea of wearing a lehenga or saree to the occasion. They are all praise for the sharara dress for the wedding. 
You may have noticed several Bollywood divas gracing the attire perfectly. From Alia Bhatt and Sara Ali Khan to Kareena Kapoor Khan and Dia Mirza, they are all praise for sharara suits. This glamorous outfit is available in different colors and designs. You can find Punjabi sharara dresses in Zari work, fine embroidery, and mirror work. It gives you a lot of choices as you can decide your look based on the occasion. 
With all that said, you should also know how to style a sharara dress for a wedding. Even if you're wearing to any other party, you should stun the crowd with your impeccable fashion choice. Let's look at a few styling tips that can add glamour to your sharara dress. 
Match it with a designer dupatta
While you can find a lot of sharara suits online, you should pay attention to buying dupattas as well. In case the Punjabi sharara dresses already comes with a dupatta, it's well and good. But if you're not satisfied with the color contrast, you can any day wear your creative hat and become a fashion designer for yourself. Pick a dupatta that matches your overall ensemble.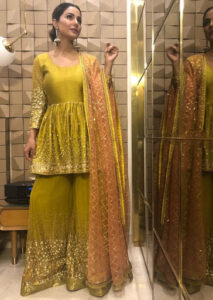 Another thing to keep in mind is how you carry your dupatta. Once you're done shopping for the best-paired dupatta, it's time to learn how to carry a dupatta gracefully. You can either drape a dupatta by pinning it on the end of your shoulder or just wear it all over the neck. Remember, draping a dupatta is art too, and you should master the skill. 
Wear a Pasa
A Punjabi sharara dress without a pasa gives you an incomplete look. A pasa can totally enhance your look. It has been donned by several royal women in the past, and the trend is still followed. Now that you know the significance of wearing a pasa, you should select an embellished piece. You can choose between a pearl or stone pasa. Whatever you choose, it's going to do wonders to your look for sure. Don't pin it too tight nor let it be loose. Ask your friend for help if you're still learning the art of wearing a pasa. 
Select statement jewelry
While choosing a sharara dress for a wedding, you should also pick stylish statement jewelry pieces. Besides wearing a pasa, you need a perfect pair of earrings, long-chain necklaces or a choker, a designer ring, and dozens of bangles. If you're uncomfortable wearing a lot of bangles, you can go with a bangle bracelet. It charms you the same way. And if you're looking to wear less makeup, that's better! You should not go overboard and look dramatic. You can't afford to go wrong with a sharara look. 
Choose gems and jewels that complement the attire and make you stand apart. It could be an opportunity to slay and earn laurels from your girl gang. Look for rich and royal jewelry pieces because your sharara look should be nothing but regal. 
Carry a statement clutch
Since a sharara dress is heavy on the body, you want to keep the accessories light or go minimal. At the same time, it's also important to look good. How do you enhance your look when you've already chosen jewelry and dupatta? The answer to this is a statement clutch or a potli bag. If you're the wedding organizer, it makes sense to carry a handbag; otherwise, a clutch is all you need. Girls are going all minimum and going for designer potli bags. You can find fine mirror-work in a variety of potli bags. It matches your sharara like no other. 
So, these are a few styling tips that you should follow if you want to charm the crowd with your presence. Don't forget to add a nice, elegant watch. Go proper with your look. You don't wear a sharara dress every day, so it's better to style yourself like a diva for the occasion. 
If you're looking to buy sharara suits online, you can visit the Readiprint Fashions store. Look through enticing sharara options and pick the one that suits you perfectly. You can also shop for wedding sarees, bridal lehengas, and indo-western outfits. It's time to re-do your wardrobe and add a variety of ethnic and western wear for every occasion.